Differences between revisions 109 and 110
Deletions are marked like this.

Additions are marked like this.

Line 10:
Line 10:
*

* [[WeightUpSolutions]] - R&D related to a fitness related business startup

* [[Simulating Brain Activity]] - Build an interactive 3D display of a brain that will show neural activity through lighting.

Line 129:
Line 135:

* [[Simulating Brain Activity]] - Build an interactive 3D display of a brain that will show neural activity through lighting.
Projects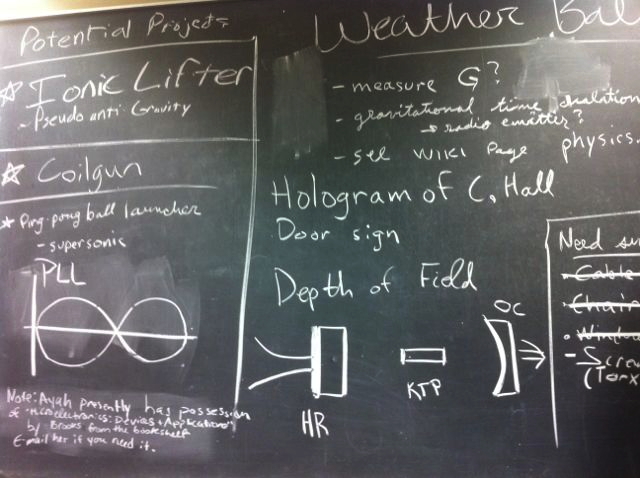 ---
Edit this page to join, add, or suggest a project and to adjust project status. To express interest in or join a project, add your name and contact the instructors or other participants. Be sure your contact information is on the people page so folks can reach you. To add or suggest a project, edit the project page to add a project title, then click the title to start a new project page from a template. Include a few photos, a brief description, references, and your name. To comment on a project, edit the project page for that project. Add only constructive comments or suggestions.
---
Active projects (2014-15)
---
Completed projects (2013-14)
---
If your project is complete or abandoned, please move the link here, document on the project page what you learned, suggest to others how to proceed further, and summarize the status of any equipment used.
---
---
Suggested projects
---
Note: Students, a number of you have signed on to express interest in suggested projects. A project is not a project until there is work. If you consider your project in an active state, meaning you are working on it at any level, please move the link below to the list of active projects and email Carlsmith.
---
Exoplanets Find some with a remotely operated telescope.

Xbox Kinect for Instructional Labs So many markets for this...

GoogleGlass Develop educational and other apps for Glass.

Lidar Light Detection and Ranging for archaeological survey.

RC Helicopter Try a fuel cell to explore extending the range of UAVs generally.

Visitor counter Help track the Physics Museum use, sell that product to say Walmart.

Drones Drones, and more drones; resources and project ideas.

Buddha Board Sustainable white board.

CubeSats 10cmx10cmx10cm satellites free for student use.

Biopowered GPS insect tracking Fly with the monarchs.

Robotic human voice How do we talk?

4D Photography Faster and volumetric optical and near optical sight

Active mechanical stablization of structures Exercise in using parametric excitation.

Graphene loudspeaker Using a new material.

Hydrophone Use those ear bud microphones to troll for sounds.

Controlling bioluminescence Luciferin rocks.

iPhone technologies Smart phones are the tricorder of today.

Entrepreneurship clinic Resources on starting your own business.

Start-up weekend Launch a company in 48 hours.

Take apart a Laptop So, um, what is inside a laptop, iphone or droid, ipad, itouch,....

Jawbone Wristband computer. Neck band? Ringband? Google Glass?

DNA origami Programmed self-assembly of nanoscale containers, motors,...

Develop demonstrations Physics needs you to improve our classes.

Supercooled Water An example demo

DYI gadgets Stuff you can MAKE.

Thermoelectric devices Transmutation of energy in various forms remains foundational.

Education Helping K-12 and ourselves.

Art, Design, Architecture Ideas for projects blending art, science, and technology.
More suggestions
The Fun theory
Making a staircase into a piano gets people to choose it rather than the escalator. Can you make a game of something to solve a problem? http://www.thefuntheory.com/award-entries
Lenticular printing
Prints that project 3d images and animations http://en.wikipedia.org/wiki/Lenticular_printing
http://www.vicgi.com/lenticular-tutorials.html
Send to this or other commercial print house http://www.snapilypro.com/
Light field cameras
Capture the angles and positions of photons
http://en.wikipedia.org/wiki/Light-field_camera, http://www.raytrix.de/index.php/Cameras.html ,http://www.raytrix.de/index.php/3d_video_en.html, http://en.wikipedia.org/wiki/Lytro, http://cameramaker.se/plenoptic.htm
Photographic processes
Explore albumen, autochrome, calotype, carbon, collotype, cyanotype, daguerreotype, platiumum
http://en.wikipedia.org/wiki/Cyanotype
http://www.vam.ac.uk/content/articles/p/photographic-processes/
http://www.vam.ac.uk/page/p/photography/?utm_source=vam.ac.uk&utm_medium=redirect&utm_content=legacy&utm_campaign=photography-2012&processid=pr012&row=2
Acoustics: Follicle mites and small scales
I wonder what follicle mites sound like...
Acoustic ecology http://www.acousticecology.org/presentation/index.html, http://www.acousticecology.org/soundscapelinks.html
MOMA : Acoustics: Subtleties of the sonic : http://www.nature.com/nature/journal/v500/n7464/full/500526a.html?WT.ec_id=NATURE-20130829
Acoustics: Sound engineering
Bottling up sound waves: Acoustic bottle beams hold promise for imaging, cloaking, levitation and more, http://www.sciencedaily.com/releases/2014/08/140804151512.htm?utm_source=feedburner&utm_medium=email&utm_campaign=Feed%3A+sciencedaily+%28Latest+Science+News+--+ScienceDaily%29
Generation of acoustic self-bending and bottle beams by phase engineering, http://www.nature.com.ezproxy.library.wisc.edu/ncomms/2014/140703/ncomms5316/full/ncomms5316.html
A Macroscopic Tractor Beam with Acoustic Waves http://physics.aps.org.ezproxy.library.wisc.edu/articles/v7/46
---
Sources for inspiration
---
HUANG YI & KUKA - A DUET OF HUMAN AND ROBOT http://www.youtube.com/watch?v=7moBSpAEkD4
Reverse engineering (KahnAcademy) https://www.khanacademy.org/science/projects/Reverse-Eng
Instructables: http://www.instructables.com/tag/type-id/category-technology/?&offset=14
Udoo: http://www.gizmag.com/udoo/27099/
Google Glass specs: http://www.gizmag.com/google-glass-specs/27087/
Biomedical engineering undergraduate projects archives: http://bmedesign.engr.wisc.edu/
Ingestible sensors: http://www.hqinc.net/thermodot/products/, http://proteusdigitalhealth.com/
Kickstarter projects: https://www.kickstarter.com/projects/1130494637/techstyle-haus-solar-decathlon-europe-2014, http://www.kickstarter.com/projects/143072809/rhode-island-mini-maker-faire-2013, http://www.kickstarter.com/projects/916029689/the-fab-lab-at-space, https://www.kickstarter.com/projects/1697625937/the-tiltyimu-a-family-of-user-friendly-robotics-co, http://www.kickstarter.com/projects/374019694/balloon-chain-at-burning-man-2013
The walls have ears http://www.princeton.edu/main/news/archive/S37/69/38I40/index.xml?section=science
Design awards http://www.core77designawards.com/2013/recipients/
---
Links/ideas (many more on the Diigo page!)
---
Winning Ag Prize teams address global food system challenges, from food spoilage to hunger | Wisconsin Institute for Discovery
Maker Commons – A Community of Makers | Commons In A Box http://commonsinabox.org/archives/1044 Replacement for wiki?
World's smallest magazine cover

http://www.rdmag.com/videos/2014/04/world%E2%80%99s-smallest-magazine-cover?et_cid=3905015&et_rid=517740405&type=cta nanoscale drawing on plastic Blender whips up graphene | Science News https://www.sciencenews.org/article/blender-whips-graphene Auditory brainstem response to complex sounds: a tutorial http://www.ncbi.nlm.nih.gov/pmc/articles/PMC2868335/ For cABRs, a vertical one-channel montage is the most common configuration. This configuration requires only three electrodes corresponding to the active (non-inverting), reference (inverting) and ground electrodes. In our lab, the preferred electrode placements are Cz (active), ipsilateral earlobe (reference), and forehead or contralateral earlobe (ground). We prefer to use the earlobe rather than the mastoid because it is a non-cephalic site that causes fewer artifacts from bone vibration (Hall 2006). For researchers who intend to record subcortical and cortical potentials simultaneously (see below), or who wish to collect them within the same session, cABRs can be recorded with an electrode cap. Flute Finger Hole Locations http://www.phy.mtu.edu/~suits/fingers.html Flutomat Javascript Flute Designer http://11wall-west.com/~ph_kosel/flutomat.html 3d cad and print? Advanced Tactics, Inc. | Home of the AT Black Knight TRANSFORMER https://www.advancedtacticsinc.com Internships in California for quadcopter VTOL Patent Lens Home http://www.patentlens.net/daisy/patentlens/patentlens.html California VC Greg Robinson to Lead Wisconsin's 4490 Ventures | Xconomy http://www.xconomy.com/wisconsin/2014/03/04/california-vc-greg-robinson-to-lead-wisconsins-4490-ventures/ Forget wearable tech, embeddable implants are already here - CNN.com http://www.cnn.com/2014/04/08/tech/forget-wearable-tech-embeddable-implants/index.html National Robots Week Open House | Wisconsin Human-Computer Interaction Laboratory http://hci.cs.wisc.edu/national-robots-week-open-house/ Crowdfunding Site Raising Capital for ASU Student Projects -- Campus Technology http://campustechnology.com/articles/2014/04/03/crowdfunding-site-raising-capital-for-asu-student-projects.aspx Hmm. UW should have this! CollabFinder - Find A Cofounder http://collabfinder.com Headset & Accessories http://emotiv.com/store/headset.php WID Frontier Fellows take on exonerations, archaeological sites and science images with data | Wisconsin Institute for Discovery http://wid.wisc.edu/wid-culture/wid-frontier-fellows-take-on-exonerations-archaeological-sites-and-science-images-with-data/ Titanium dioxide - Wikipedia, the free encyclopedia http://en.wikipedia.org/wiki/Titanium_dioxide Turns out these are easy to make. R&D $ HERD 2012 Data Tables http://ncsesdata.nsf.gov/herd/2012/ Wind Industry's New Technologies Are Helping It Compete on Price - NYTimes.com http://www.nytimes.com/2014/03/21/business/energy-environment/wind-industrys-new-technologies-are-helping-it-compete-on-price.html?ref=business&_r=0
http://www.altaerosenergies.com/
firestarters: Emotional Arcade | IDFA DocLab http://www.doclab.org/2013/emotional-arcade/ XYZprinting Inc. – da Vinci 3D Printer $499 at Amazon http://us.xyzprinting.com/Product Soccer displays fractal dynamics http://www.rdmag.com/news/2014/03/soccer-displays-fractal-dynamics?et_cid=3832585&et_rid=517740405&type=cta Pretty naive video analysis on a system that could be interesting. Shapeways | About - How it works http://www.shapeways.com/about/how_does_it_work?li=home-learnmore [1402.7101] New type of microengine using internal combustion of hydrogen and oxygen http://arxiv.org/abs/1402.7101 Agisoft PhotoScan Standard | www.agisoft.ru http://www.agisoft.ru/products/photoscan/standard/ Roomy Cages Built From DNA : Wyss Institute at Harvard http://wyss.harvard.edu/viewpressrelease/148/ Innovative solar-powered toilet developed by CU-Boulder ready for India unveiling | University of Colorado Boulder http://www.colorado.edu/news/releases/2014/03/12/innovative-solar-powered-toilet-developed-cu-boulder-ready-india-unveiling State of Inqenuity SOI SourceLink http://www.soisourcelink.com WI Drone 2013 Senate Bill 196 http://docs.legis.wi.gov/2013/proposals/sb196 GenoCAD: CAD Software for Synthetic Biology http://www.genocad.org Posters in the Rotunda 2013 http://www.wisconsin.edu/posters/ Epicenter: Creating a Nation of Entrepreneurial Engineers http://epicenter.stanford.edu Campuses | Dream. Design. Deliver. http://dreamdesigndeliver.org/about/ Someone interested in putting WI on this map. Dell Social Innovation Challenge http://www.dellchallenge.org/discover/projects The Awesome Foundation http://www.awesomefoundation.org/en Physics - Droplets Caught at High Speed http://physics.aps.org.ezproxy.library.wisc.edu/synopsis-for/10.1103/PhysRevApplied.1.014004 34 microsecs to form a drop Battery-free tech brings gesture recognition to all devices http://www.rdmag.com/videos/2014/02/battery-free-tech-brings-gesture-recognition-all-devices?et_cid=3795336&et_rid=517740405&type=cta Grants | NCIIA http://nciia.org/grants National Collegiate Inventors and Innovators Alliance Start it up :Mission & History | NFTE http://www.nfte.com/what/mission Org devoted to promoting entrepreneurship We The Geeks | The White House http://www.whitehouse.gov/we-the-geeks Laser-Sintering 3d printing http://www.rdmag.com/articles/2014/02/laser-sintering-effect?et_cid=3788672&et_rid=517740405&type=cta Global Space Balloon Challenge http://www.balloonchallenge.org Microscopy: A new phase for X-ray imaging : Nature : Nature Publishing Group http://www.nature.com.ezproxy.library.wisc.edu/nature/journal/v467/n7314/full/467409a.html A battery small enough to be injected, energetic enough to track salmon http://www.rdmag.com/news/2014/02/battery-small-enough-be-injected-energetic-enough-track-salmon?et_cid=3775592&et_rid=517740405&type=cta Students | AAAS 2014 Annual Meeting http://meetings.aaas.org/students/ Just down in Chicago, an earful for $70. Session: Nurturing Scientific Innovation and Entrepreneurship within the University Ecosystem (2014 AAAS Annual Meeting (13-17 February 2014)) http://aaas.confex.com/aaas/2014/webprogram/Session6794.html RSA US Student Design Awards — An RSA Catalyst Project http://sda.rsa-us.org Stratasys introduces world's first color multi-material 3-D printer http://www.rdmag.com/news/2014/01/stratasys-introduces-world%E2%80%99s-first-color-multi-material-3-d-printer?et_cid=3736667&et_rid=517740405&type=cta

Engineers at beta user Trek Bicycle in Waterloo, Wisc., are using the Objet500 Connex3 for assessment and testing of accessories like bike chain stay guards and handlebar grips prior to actual production. "The Objet500 Connex3 Color Multi-material 3D Printer changed the way we manufacture at Trek, augmenting our traditional, time-consuming CNC processes with fast, iterative and realistic prototyping and functional testing," says Mike Zeigle, manager of Trek's prototype development group.

'Office hours' on State Street offers informal advice to entrepreneurs (Jan. 27, 2014)

http://www.news.wisc.edu/22484?utm_source=iUW&utm_medium=email&utm_campaign=iUW2014-01-28 3-D printed soil reveals the world beneath our feet http://www.rdmag.com/videos/2014/01/3-d-printed-soil-reveals-world-beneath-our-feet?et_cid=3733746&et_rid=517740405&type=cta Interesting application of 3d-printing Penn State Launches Crowdfunding Campaign for Moonlander -- Campus Technology http://campustechnology.com/articles/2014/01/22/penn-state-launches-crowdfunding-campaign-for-moonlander.aspx Inkjet printing - the physics of manipulating liquid jets and drops - Abstract - Journal of Physics: Conference Series - IOPscience http://iopscience.iop.org.ezproxy.library.wisc.edu/1742-6596/105/1/012001 High-Speed Imaging of Drops and Bubbles - Annual Review of Fluid Mechanics, 40(1):257 http://www.annualreviews.org.ezproxy.library.wisc.edu/doi/full/10.1146/annurev.fluid.40.111406.102215?prevSearch=searchText%253A%2528bubble%2529&searchHistoryKey= 3D Printed Food | BotBQ | The Open Source 3D Printing BBQ http://botbq.org/services/3d-printed-food/ Madison Startup Fair | Capital Entrepreneurs http://www.capitalentrepreneurs.com/startup-fair/ PowerUp 3.0 App Toys | PowerUp Toys http://www.poweruptoys.com/pages/app-toys Technology uses micro-windmills to recharge cell phones - News Center - UT Arlington http://www.uta.edu/news/releases/2014/01/microwindmill-rao-chiao.php criticalmaking.com University of Toronto http://criticalmaking.com The critical making laboratory is a shared space for opening up the practice of experimentation with embedded and material digital technology to students and faculty in the Faculty of Information. The lab provides tools, materials, and training for building devices such as wearable computers, RFID systems, ubiquitous computing networks, and other physical computing technologies. Swivl personal cameraman http://www.swivl.com ArduSat - Your Arduino Experiment in Space by ppl4world — Kickstarter http://www.kickstarter.com/projects/575960623/ardusat-your-arduino-experiment-in-space Arts Business Symposium @ UW-Madison Continuing Studies http://continuingstudies.wisc.edu/conferences/arts-business-research-symposium/index.html?source=madisonartsbusiness.com/%C3%A2%E2%82%AC%C5%BD Open Source Ecology http://opensourceecology.org/index.phpUW Physics alum Marcin Jakobowski's project Students showcase wearable computing projects, design thinking (Dec. 19, 2013) http://www.news.wisc.edu/22403?utm_source=iUW&utm_medium=email&utm_campaign=iUW2013-12-19 Superpedestrian - The Copenhagen Wheel https://www.superpedestrian.com PNNL: News - Algae to crude oil: Million-year natural process takes minutes in the lab http://www.pnnl.gov/news/release.aspx?id=1029 Contact | UW Rapid Prototyping Consortium http://prototype.wisc.edu/contact DROP AND SPRAY FORMATION FROM A LIQUID JET - Annual Review of Fluid Mechanics, 30(1):85 http://www.annualreviews.org.ezproxy.library.wisc.edu/doi/abs/10.1146/annurev.fluid.30.1.85 Lionhead 3D Printer and 3D Scanner with Li Modeling Software by Radiant Fabrication — Kickstarter http://www.kickstarter.com/projects/radiantfabrication/lionhead-3d-printer-and-3d-scanner-with-li-modelin Outgrowth of rapid prototyping center Harvesting waste plastic for 3D printers to reduce poverty: Plastic Bank : TreeHugger http://www.treehugger.com/clean-technology/harvesting-waste-plastic-reduce-poverty-plastic-bank.html Engineer designs mug to keep coffee temperature just right http://www.rdmag.com/news/2013/12/engineer-designs-mug-keep-coffee-temperature-just-right?et_cid=3653754&et_rid=517740405&type=cta How to Teach Entrepreneurship -- Campus Technology http://campustechnology.com/Articles/2013/10/16/How-to-Teach-Entrepreneurship.aspx?Page=1 Print Your Own 3D Learning Objects -- Campus Technology http://campustechnology.com/Articles/2013/12/04/Print-Your-Own-3D-Learning-Objects.aspx?Page=1 Video: A flying robotic jellyfish? Prototype proves it's possible - latimes.com http://www.latimes.com/science/sciencenow/la-sci-sn-flying-robot-jellyfish-insects-bioinspired-engineering-20131125,0,1118474.story#axzz2mKaPFGeo%C2 The engineering behind additive manufacturing and the 3-D printing revolution http://www.rdmag.com/news/2013/12/engineering-behind-additive-manufacturing-and-3-d-printing-revolution?et_cid=3638079&et_rid=517740405&type=headline
Associated Students of Madison approves 2015 Green Fund | Office of Sustainability
Amazon proposes cargo drone
Open-Source Lab, 1st Edition | Joshua Pearce | ISBN 9780124104624
Michigan Tech Open sustainability technology, Joshua Pearce
---
---