WeightUp Solutions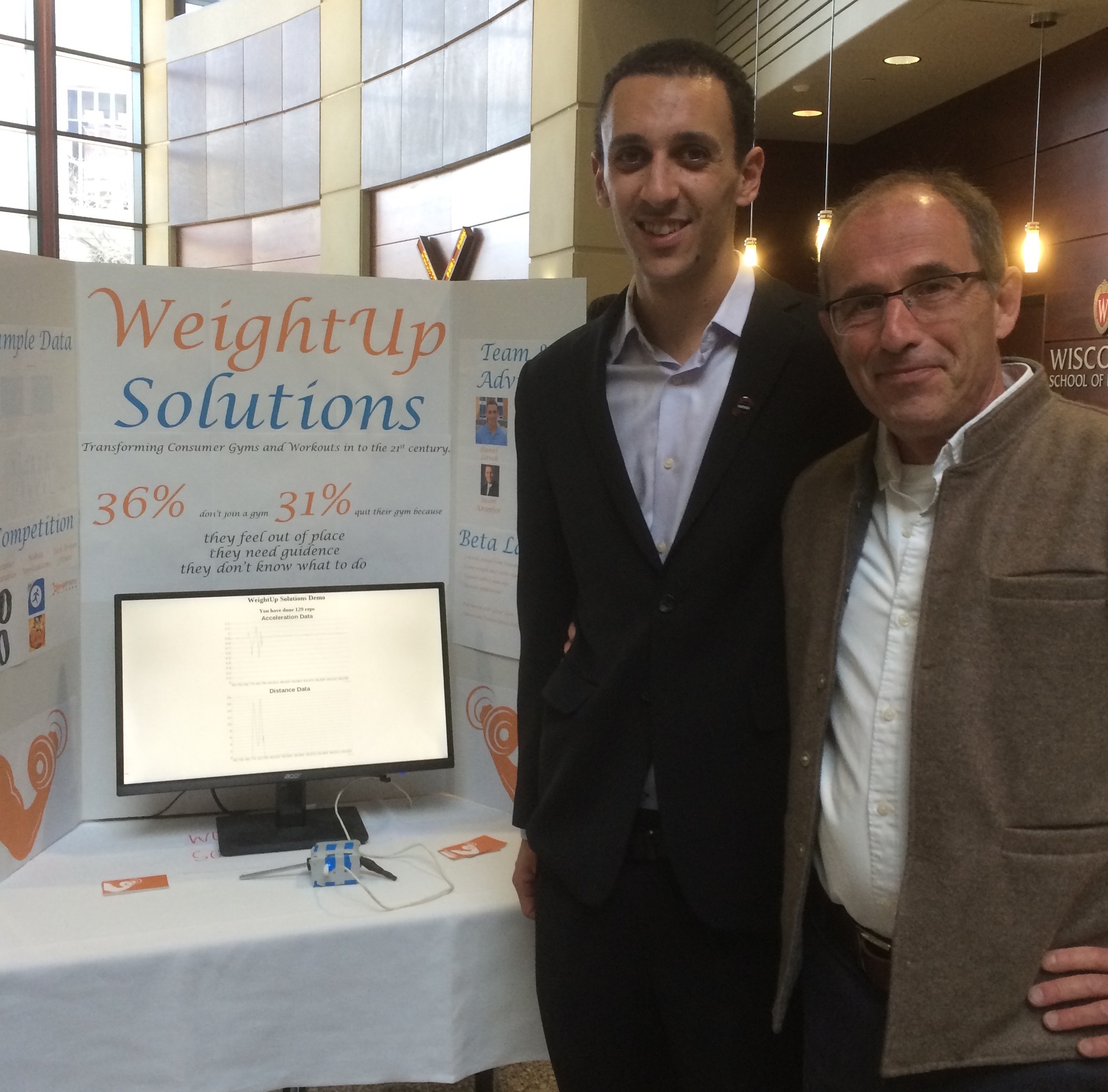 G. Steven Burrill Business competition 2015, new Logo
Do it like Tom Brady. R&D related to a gym equipment instrumentation business plan. Contact Daniel Litvak (CS major), WeightUpSolutions.com and Liev Birman (Physics) for further information. Welcome Fernando Mandujano and Tan Bui (B-school).
Random gym pic, first prototype sensor system Second prototype with accelerometer and acoustic position sensing, USB connection not wifi.
Status June 2015
WeightUp Solutions Bi-Weekly Update - June 28, 2015 Friends of WeightUp, this is the first in a series of emails I will be sending out to keep everyone up to date on the company's progress.
Recent News
This weekend we began a six-week intensive accelerator program with Madison based gener8tor. We have scheduled meetings with Madison health club owners in our pursuit of finding a beta partner. gener8tor WeightUp Solutions is participating in the inaugural class of Gener8tor's gBETA program. As one of five companies, WeightUp will be working one-on-one with the team at Gener8tor with a focus on business development. Gener8tor is currently ranked the #13 Accelerator in the nation.
Partnerships We are currently gearing up for pitching to two locally owned health clubs. Harbor Athletics is located in Middleton, Wi with both an athletic club and a wellness studio. Supreme Health & Fitness is located in Madison, Wi with a 7,000-square-foot facility. We are still looking for more introductions to health club owners.
Product In the past weeks, we have finalized the design and development of the sensor network. We are working on finalizing power and network requirements and are preparing to scale production for a beta launch.
Financing We are currently raising a $250,000 pre-seed round to be spent on entering and supporting a beta launch as well as continuing development and preparations for additional partnerships. Please contact Daniel for more information.
Big Thank You - Gregg Johnson (Merlin Mentors) - Gregg has made key introductions to gym owners in Madison. - Paul Falzone - Paul has made very high caliber strategic introductions that I look forward to including more about in the coming updates. Copyright © 2015 WeightUp Solutions, All rights reserved. We send reoccurring updates on the current state of the business.
Our mailing address is: WeightUp Solutions 104 Langdon St Madison, WI 53703