Air-Bearing Gyroscope, 1Q50.45
Topic and Concept:
Location: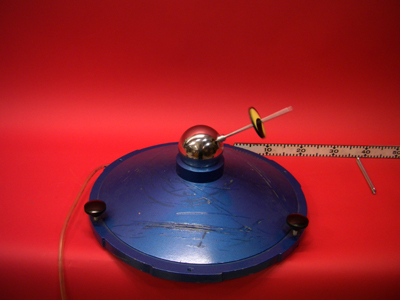 Abstract:
A large air-bearing gyroscope with a long horizontal shaft with a painted disc mounted for emphasis shows nutation.
| | | |
| --- | --- | --- |
| Equipment | Location | ID Number |
| | | |
| apparatus | | |
| | Located in 2103 & 2241 (2223 Upon Request) | |
Important Setup Notes:
Setup and Procedure:
Place the apparatus on a tabletop.

Connect the attached tube to a supply of compressed air. The supply will most likely come from the red and white gas carts.

Open the valve to let the compressed air into the apparatus.
Grab hold of the rod sticking out of the air-bearing and give the bearing a spin. The bearing will nutate as it spins.
Cautions, Warnings, or Safety Concerns:
Discussion:
When given a spin, the air-bearing attains some amount of angular momentum. The intial thrust of our hand creates an imbalance of torques (the normal force of your hand and the force of gravity). This causes the system to overcompensate. This causes the system to over try to compensate again leading to a series of oscillations, which we call nutation (as visually mapped out by the wobble of the disc).
Videos:
References: