Tuning Fork Waveforms, 3D46.16
Topic and Concept:
Location: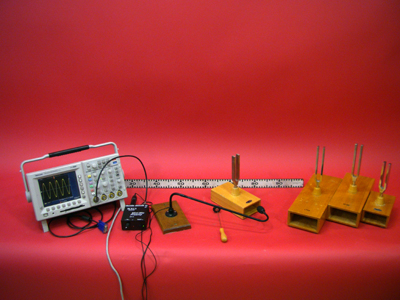 Abstract:
Use a microphone and an oscilloscope to display the waveforms of tuning forks of varying frequencies.
| | | |
| --- | --- | --- |
| Equipment | Location | ID Number |
| | | |
| Tuning Forks | | |
| | | |
| Mic and Pre-Amplifier | | |
Important Setup Notes:
There are three different mics each with their own pre-amplifier that can be used for this demonstration (see photos below). You need only pick one.
Setup and Procedure:
Connect the mic to the pre-amplifier with a the appropriate cable.
Connect the pre-amplifier to the oscilloscope input with a coaxial cable.

Plug in the Oscilloscope and the pre-amplifier. Switch these on.

Place the tuning fork nearby and strike with a mallet.

Position the mic near the vibrating tuning fork so that the signal is displayed clearly on the Oscilloscope. The display range may need to be adjusted.

Try displaying the signal for other frequencies (other tuning forks).
Cautions, Warnings, or Safety Concerns:
Discussion:
When the tuning fork oscillates, it collides with adjacent air molecules creating a longitudinal wave having the same frequency. This is our sound wave. The amplitude of the wave (related to the sound intensity) is determined by the amplitude of oscillations of the tuning fork. This disturbance travels to the microphone where there is a component that is susceptible to changes in air pressure. The incoming sound wave drives an oscillation of this component at the same frequency. This component is also sensitive to amplitude. This turns our sound wave into an electric signal which is amplified by the pre-amplifier before being processed and displayed as Voltage (or current) VS time on the oscilloscope. Thus, our oscilloscope provides us with a direct visualization of the oscillations of the tuning fork or, equivalently, sound.
Videos:
References: