Gravity Coin Well, 1L20.20
Location: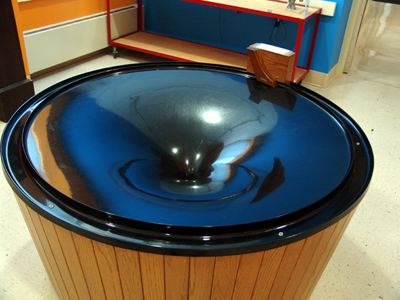 Description: This demonstration consists of a 56 inch diameter hyperbolic funnel. Coins dropped into this funnel loosely approximate the behavior of matter spiraling into a gravity well - e.g. a black hole.
Setup:
Make sure there are enough coins in the tray.
Take a coin and drop
Make sure there is not a clog of coins at the bottom of the funnel.
Cautions, Warnings, or Safety Concerns:
The funnel clogs if too many coins are dropped into the well at once.
Demonstration:
{Insert description of demonstration, how is the demonstration preformed.}
References: