Collision Balls, 1N30.10
Topic and Concept:
pira200 Listed
Location: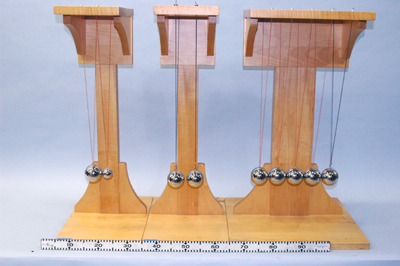 Abstract:
Two balls and five balls on a bifilar suspension are used to demonstrate one-dimensional collisions and transfer of momentum.
| | | |
| --- | --- | --- |
| Equipment | Location | ID Number |
| | | |
| 2 Equal Mass Balls Apparatus | ME, Bay B3, Shelf #1 | |
| 2 Different Mass Balls Apparatus | ME, Bay B3, Shelf #1 | |
| 5 Equal Mass Balls Apparatus | ME, Bay B4, Shelf #1 | |
Important Setup Notes:
Setup and Procedure:
No setup is required. Just place the apparatus (or all three) on the lecture bench.
Pull back various combinations of balls and release. The system will oscillate back and fourth demonstrating the conservation of momentum.
Cautions, Warnings, or Safety Concerns:
Discussion:
This demonstrates the exchange of momentum between spherical masses when they collide. If one ball is raised and allowed to fall, the series of collisions between the balls in the middle will result in the momentum being transferred to the ball on the opposite end. In other words, the ball on the end will swing up to the same height to which the initial ball was pulled. This shows the transfer of linear momentum from the moving mass to the mass at rest demonstrating the law of conservation of momentum.
Videos:
References: