Fire Extinguisher Rocket, 1N22.05
Topic and Concept:
Location: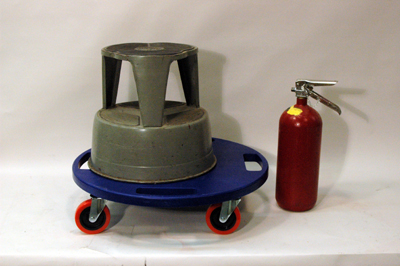 Abstract:
Use a fire(CO2) extinguisher while you are setting on a stool on top of a scooter board, and take a ride.
| | | |
| --- | --- | --- |
| Equipment | Location | ID Number |
| | | |
| Scooter Board | ME, Bay A4, Shelf #T | 1N22.10 |
| CO2 Extinguisher | ME, By Column | |
| Library Stool | all over | |
Important Setup Notes:
This demonstration requires CO2 Cylinder
Setup and Procedure:
Place the stool on the scooter, and make sure the stool is slightly off center.

Sit on the stool, and firmly hold the 10 lb CO2 cylinder with both hands.

Squeeze the handle to expel the CO2. You will move in the direction opposite to the expelled gas.
Cautions, Warnings, or Safety Concerns:
CO2 Cylinder get very cold when the gas is expelled - gloves may be needed
Discussion:
The principle behind rocket propulsion is the conservation of momentum. When fuel is expelled from the rocket, in this case CO2, it caries with it a certain momentum which is equal to the product of the mass of the expelled propellant and its speed. To conserve momentum, the rocket must be propelled in the opposite direction with equal momentum.
Videos:
References: