Differences between revisions 2 and 21 (spanning 19 versions)
Deletions are marked like this.

Additions are marked like this.

Line 2:
Line 2:

{{attachment:GarageB651_3.jpg|GarageB651_3|width="400"}}{{attachment:GarageB651_1.jpg|GarageB651_1|width="400"}} {{attachment:GarageB651_2.jpg|GarageB651_2|width="400"}}

Line 3:
Line 4:

Please see attached project description and general instructions.

Welcome to Garage Physics. Garage Physics is located in B613 Sterling Hall and sponsored by the University of Wisconsin Department of Physics. The gestation of the project is described in the project proposal:

Line 7:
Line 8:

Dear students,

The goal of Garage Physics is to provide a new flexible space for innovative student-focused research and education. In the Garage, a student (undergraduate or graduate) is encouraged to explore his or her passions, to find new passions, to learn practical skills, to study in new ways, and to take an active role in their education. The Garage mode of learning compliments the structured learning environment of the regular curriculum. A wide variety of projects are possible in the Garage: basic scientific research, projects for entrepreneurs interested in developing or exploiting new gadgets, and "steAm" projects merging STEM and Arts fields. Projects related to sustainability, public safety, teaching and learning, and social entrepreneurship are encouraged.

Line 9:
Line 10:

The Garage Physics space B651 Sterling is rekeyed and open for "business."

Take the following steps to join Garage Physics:

Line 11:
Line 12:
This distribution list will be the primary notification center. Please encourage other interested students to register for the distribution list to receive notifications of meetings etc... To
subscribe see:http://mail.physics.wisc.edu/mailman/listinfo/Garage

0) Email Brett Unks and Duncan Carlsmith with an introduction describing yourself, your major, your background, and what you hope to accomplish even if that is just to find out more at this stage.

Line 14:
Line 14:

Please self-register at LEARN@UW (click the self-registration link at the upper right of your screen and select Garage Physics) and read over the basic electrical safety tutorial. Take a look at the other materials also. Take the quiz. You must get a perfect score. You can try as many times as is necessary. Then meet with Brett Unks and Duncan Carlsmith to discuss your needs, and obtain a key from Aimee Lefkow. Remember, the buddy rule applies and will be enforced.

1) Register for the e-mail distribution list to receive notifications of meetings etc. Subscribe at https://lists.physics.wisc.edu/listinfo/garage . Join the Garage Physics group at Diigo.com using your xxx.wisc.edu email address to create a free account using your .wisc.edu email. You must request to join the group and email Carlsmith that you are requesting and who you are so you can be approved. You will find suggestions for projects on the Diigo group site and information related to ongoing projects and may post your own there.

Line 16:
Line 16:

Visit the WIKI at https://www.physics.wisc.edu/Garage. Click "login" then "you can create one now" to create an account. (The TextCha asks you for the weakest force. The answer is gravity.) For the moment, this will be our preferred place for sharing information including requests for experiment setups and equipment.

2) Access to the Garage requires safety training and is controlled by keys. First read the safety information linked to the front page of the WIKI. basic electrical safety training is required and is offered online. Self-register at LEARN@UW (click the self-registration link at the upper right of your screen and select Garage Physics) and read over the basic electrical safety tutorial. Take a look at the other materials also. Take the quiz. You must get a perfect score. You can try as many times as is necessary. Then meet with Brett Unks to discuss further your interests and needs, and obtain a key from Aimee Lefkow. Remember, the buddy rule applies and will be enforced.

3) Join the WIKI at https://www.physics.wisc.edu/garage. Click "login" then "you can create one now" to create an account. (Ask Brett for the answer to the TextCha.) The WIKI will be our preferred place for sharing information including requests for experiment setups and equipment. Take a look at existing pages in text edit mode to understand how to edit pages. Hint: If you clone a photo or other attachment link, it will first appear as a clickable link. Clicking that link will prompt you to upload a file.

4) Edit the "People" page adding your name, then create a home page with your contact information and a photo. Note that this information is public read, so exercise care.

5) Look over the suggested and on-going projects and talk to the organizers/proponents about how to participate in or lead the effort.

6) Look over the mini-classes. Express and interest or suggest a class and be sure to respond to Doodle polls when classes are announced via the e-mail distribution list.

7) Consider enrolling in a directed independent study class for credit in which you take advantage of the Garage. See L&S Undergraduate Directed/Independent Study Course Guidelines https://kb.wisc.edu/ls/page.php?id=20133 and University guidlelines https://kb.wisc.edu/vesta/page.php?id=36263. . Honors students may seek research funds through the Honors program. Many other opportunities may be found on this wiki for funding research and entrepreneurial activities.

8) Attend a monthly 1st Thursday research meeting or 3 Thursday brainstorm/pizza meeting.
Line 19:
Line 31:
Edit the "People" page adding your name, then create a home page with your contact information and a photo.

I hope you all will organize through the Physics Club to make use of this Garage space. Please designate a lead contact for Garage Physics and communicate that person's contact information to Carlsmith, Unks, and Lefkow, and put it on the Physics Club website prominently so the interested student can find it and get information. This person should visit the Garage regularly, take care of keeping the space clean and safe, be chief editor of the Garage wiki, and be available to assist or organize assistance with moving equipment in and out of the Garage.

A few suggestions to help get things rolling:

Organizational stuff:
1.1) Someone please make a colorful sign to go on the door of B651 reading "Garage Physics" with contact information for Carlsmith, Unks, Lefkow, and the Physics Club. Do not name the physics club contact person on the sign as that position will roll over.

1.2) Someone make some smallish colorful posters to advertise the space near the elevators and entrances of Chamberlin Hall and elsewhere on campus (engineering, astronomy physics,...) to increase awareness, and envy, and drum up support.

1.3) Someone get familiar with KickStarter and prepare a KickStarter campaign to fund equipment.

1.4) Figure out a way on the WIKI to share information about stuff you want to do and how to contact each other and how to log progress. A main page with links to subpages on projects has already been created. I suggest the Garage Physics lead contact be a lead editor of the main page, make it look presentable, and that users link from that page to their projects. Projects should have presentable front pages. These will be used for PR down the road and are important. The contributors to the projects should be acknowledged on the project page. The lead Garage Physics editor should design and make available a project page template. The user can start by copying the template and filling in a description (might be general and vague to start) and an equipment list. Brett and others should be able to then check over the requests and provide comments like "We have this. You should talk to XX about that..." The project pages should be designed so that new users can jump in, see what has been done, and advance the project further. For example, some one might play with some acoustic setup and drop some screen shots of results on the page with comments like this is cool, we got this, we had the idea that it would be neat to try xxx but didn't have time...

1.5) Someone set the PC up in the Garage and auto point it at the WIKI. This computer should be used as an electronic bulletin board. The other PC can be used for data acquisition. Folks should expect to bring their own laptops to email etc...

1.6) Someone setup an electronic method to share schedules and enable meetings at the Garage respecting the buddy rule.

Stuff to do:

2.0) Review the educational lab materials for physics 201-2 and create a schedule to rotate one standard lab per week through the garage.

2.1) Meet with Steve Narf and create a schedule to rotate demos through the garage.

2.2) Request some acoustics stuff. Whip through color and sounds labs and demos used in the physics for the arts course you should have taken but didn't.

2.3) Request some optics stuff and see if you can make a telescope or microscope out of your iPhone.

2.4) Do you really understand motors and generators and engines?

2.4) Join together chipping in say $10/student to purchase something like http://ardrone2.parrot.com/ and make a splash by filming some things from the air on campus and putting the clips on Youtube, then design something cooler, perhaps bio-inspired. (Google hummingbird robot, mosquito robot....)

2.5) Organize to launch an iPhone 4 in a balloon to "the edge of space," say 100,000 ft. (Google iphone balloon space)

2.6) Talk to Carlsmith about addition suggested projects listed on the project page.

Navigation links will appear as you browse this site. Use the "Front Page" button to return to the front page.

Line 58:
Line 35:
Duncan Carlsmith
Professor of Physics
University of Wisconsin-Madison
Duncan Carlsmith

,


Professor of Physics

,


University of Wisconsin-Madison

,

Line 63:
Line 40:

----
About Garage Physics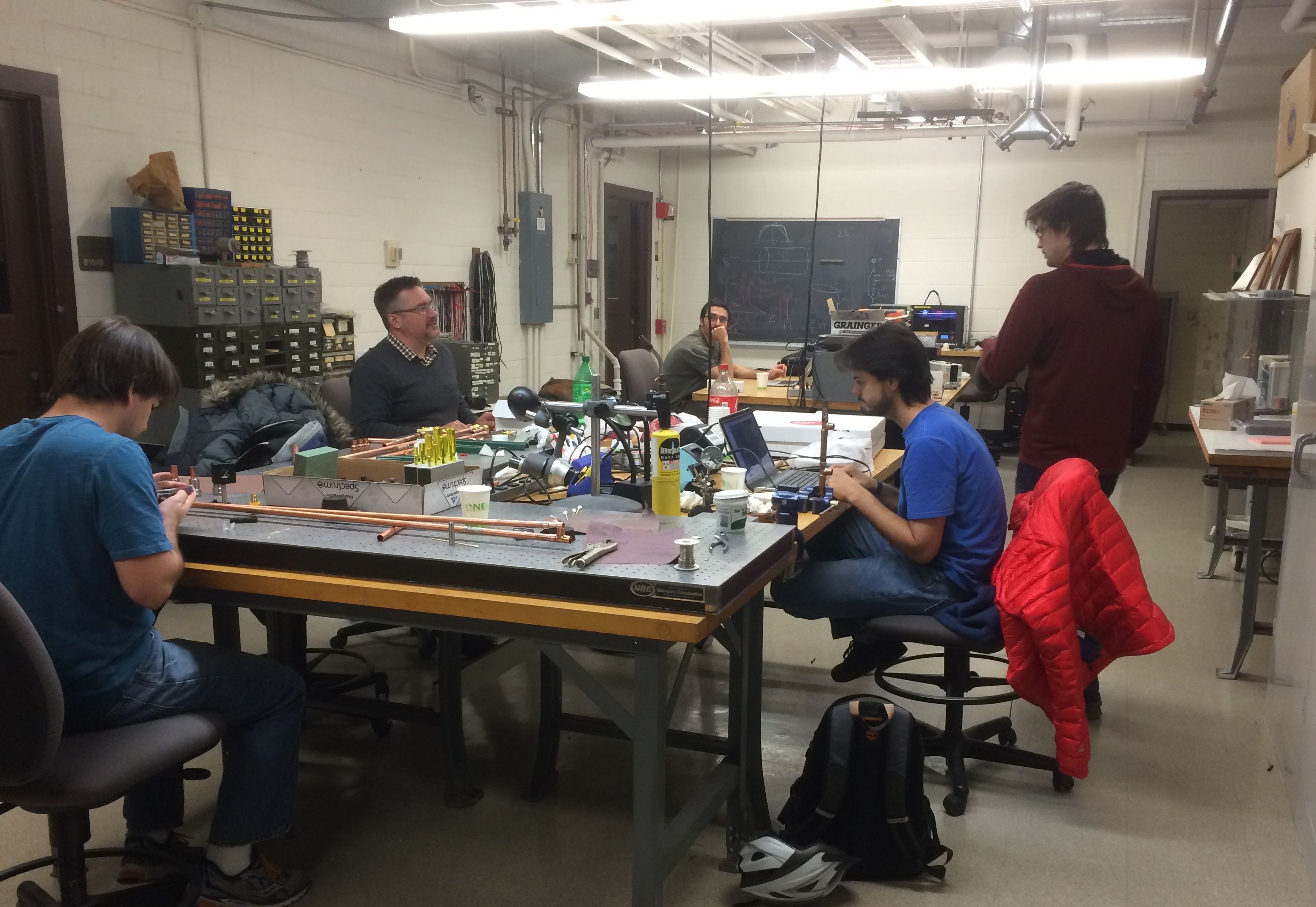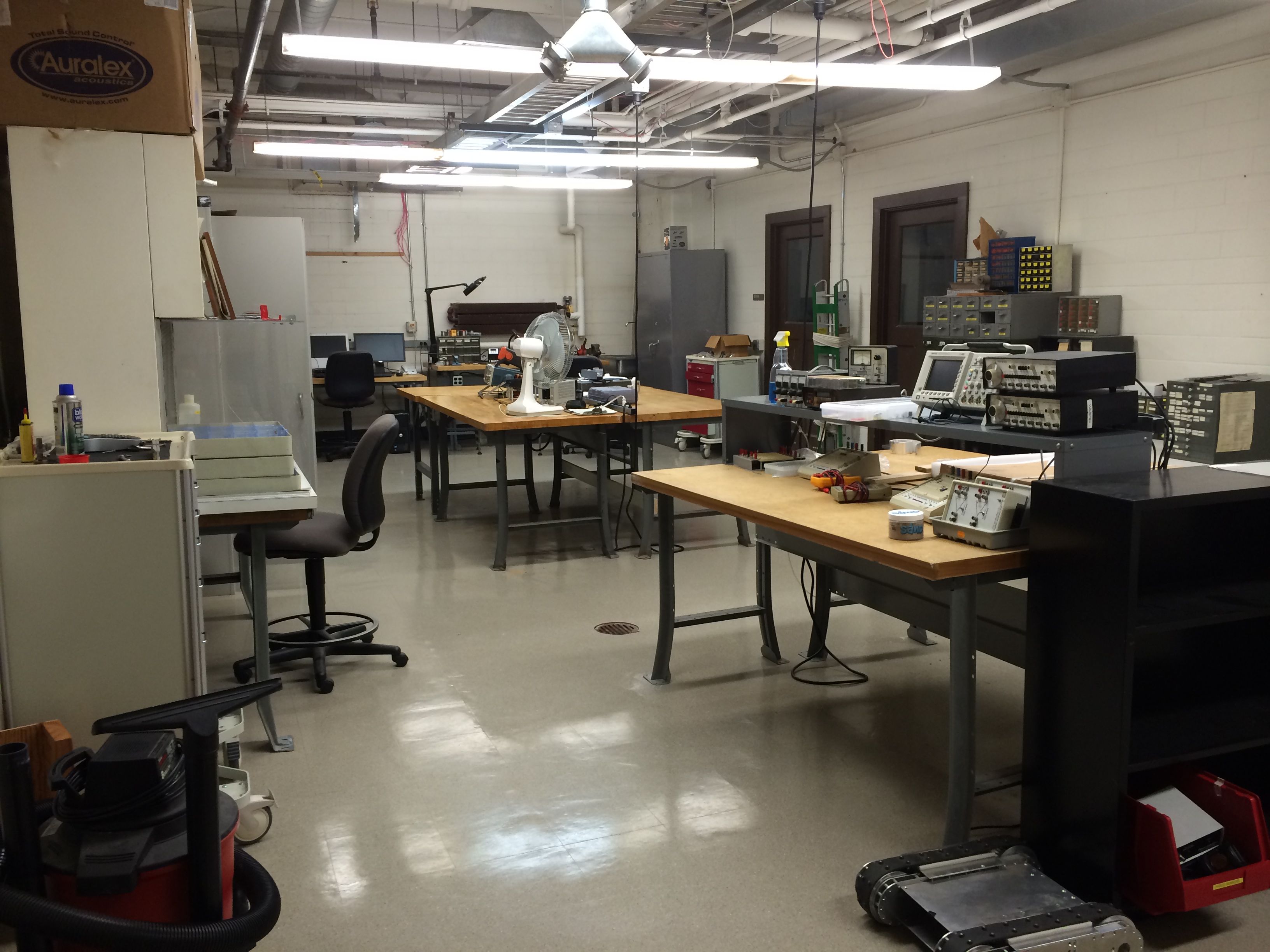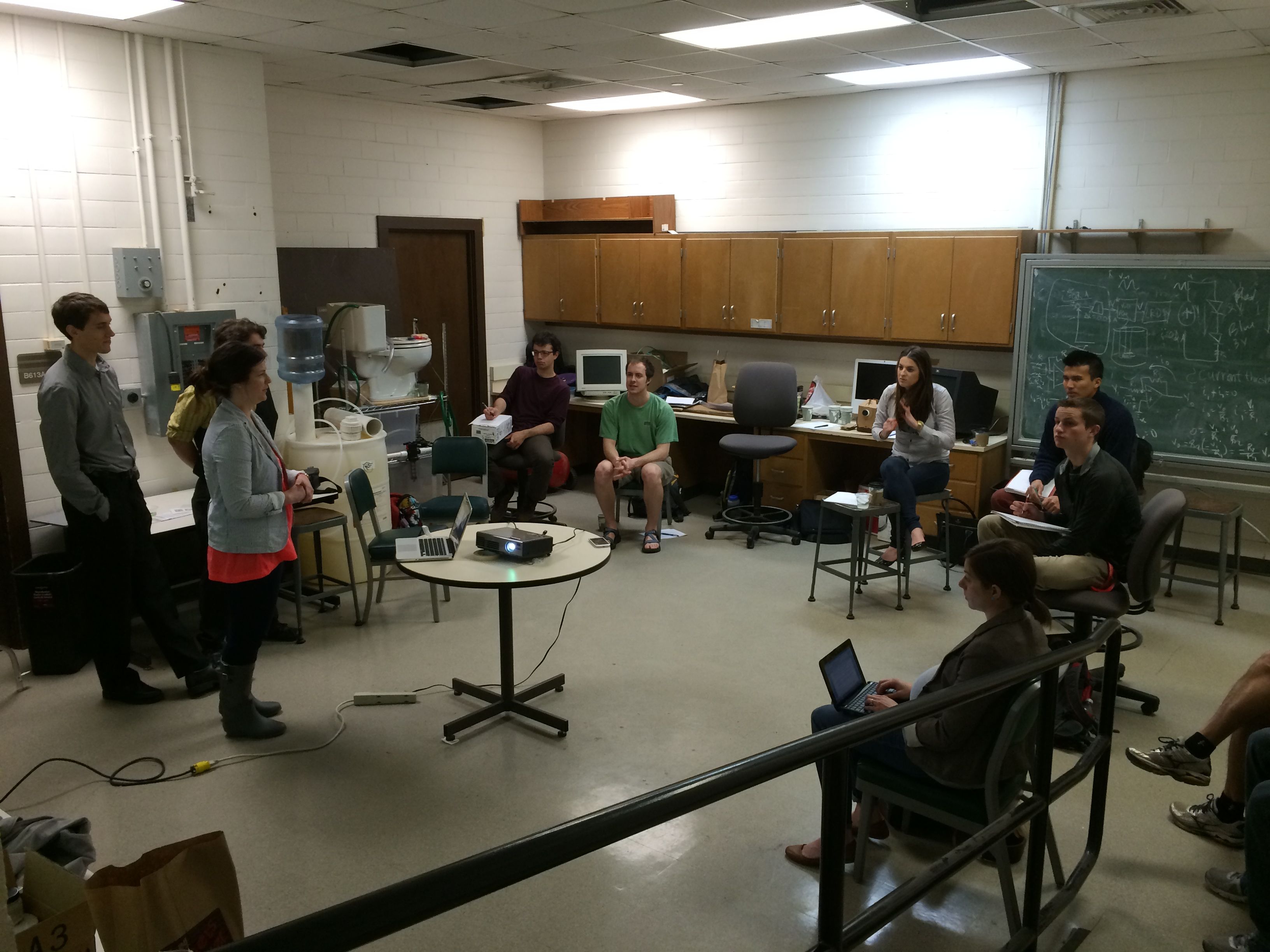 Welcome to Garage Physics. Garage Physics is located in B613 Sterling Hall and sponsored by the University of Wisconsin Department of Physics. The gestation of the project is described in the project proposal:
The goal of Garage Physics is to provide a new flexible space for innovative student-focused research and education. In the Garage, a student (undergraduate or graduate) is encouraged to explore his or her passions, to find new passions, to learn practical skills, to study in new ways, and to take an active role in their education. The Garage mode of learning compliments the structured learning environment of the regular curriculum. A wide variety of projects are possible in the Garage: basic scientific research, projects for entrepreneurs interested in developing or exploiting new gadgets, and "steAm" projects merging STEM and Arts fields. Projects related to sustainability, public safety, teaching and learning, and social entrepreneurship are encouraged.
Take the following steps to join Garage Physics:
0) Email Brett Unks and Duncan Carlsmith with an introduction describing yourself, your major, your background, and what you hope to accomplish even if that is just to find out more at this stage.
1) Register for the e-mail distribution list to receive notifications of meetings etc. Subscribe at https://lists.physics.wisc.edu/listinfo/garage . Join the Garage Physics group at Diigo.com using your xxx.wisc.edu email address to create a free account using your .wisc.edu email. You must request to join the group and email Carlsmith that you are requesting and who you are so you can be approved. You will find suggestions for projects on the Diigo group site and information related to ongoing projects and may post your own there.
2) Access to the Garage requires safety training and is controlled by keys. First read the safety information linked to the front page of the WIKI. basic electrical safety training is required and is offered online. Self-register at LEARN@UW (click the self-registration link at the upper right of your screen and select Garage Physics) and read over the basic electrical safety tutorial. Take a look at the other materials also. Take the quiz. You must get a perfect score. You can try as many times as is necessary. Then meet with Brett Unks to discuss further your interests and needs, and obtain a key from Aimee Lefkow. Remember, the buddy rule applies and will be enforced.
3) Join the WIKI at https://www.physics.wisc.edu/garage. Click "login" then "you can create one now" to create an account. (Ask Brett for the answer to the TextCha.) The WIKI will be our preferred place for sharing information including requests for experiment setups and equipment. Take a look at existing pages in text edit mode to understand how to edit pages. Hint: If you clone a photo or other attachment link, it will first appear as a clickable link. Clicking that link will prompt you to upload a file.
4) Edit the "People" page adding your name, then create a home page with your contact information and a photo. Note that this information is public read, so exercise care.
5) Look over the suggested and on-going projects and talk to the organizers/proponents about how to participate in or lead the effort.
6) Look over the mini-classes. Express and interest or suggest a class and be sure to respond to Doodle polls when classes are announced via the e-mail distribution list.
7) Consider enrolling in a directed independent study class for credit in which you take advantage of the Garage. See L&S Undergraduate Directed/Independent Study Course Guidelines https://kb.wisc.edu/ls/page.php?id=20133 and University guidlelines https://kb.wisc.edu/vesta/page.php?id=36263. . Honors students may seek research funds through the Honors program. Many other opportunities may be found on this wiki for funding research and entrepreneurial activities.
8) Attend a monthly 1st Thursday research meeting or 3 Thursday brainstorm/pizza meeting.
Navigation links will appear as you browse this site. Use the "Front Page" button to return to the front page.
Cheers,
Duncan Carlsmith, Professor of Physics, University of Wisconsin-Madison, duncan@hep.wisc.edu
---