Current Loop, 5H10.31
Location:
L.S Ingersol Physics Museum Middle of Room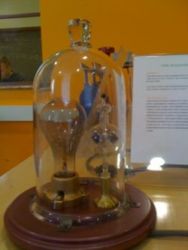 Description:
That demonstrates the kinetic energy transfer from radiation.
| | | |
| --- | --- | --- |
| Equipment | Location | ID Number |
| | | |
| apparatus | Ingersoll Museum | |
Setup:
No Setup Needed
Cautions, Warnings, or Safety Concerns:
Apparatus is under partial pressure
Demonstration:
The radiometer is design to show the kinetic energy from various sources of radiation. When the light bulb is on the bulb is producing radiation in the form of visible light and heat (infrared). This thermal energy is then transferred to the small amount of particles in the partial vacuum of the radiometer. These moving particles then hit and are absorbed by the black side of the sails and reflected by the silver side. This then moves sails in one direction because the sails are absorbing the momentum of the moving particles due to the energy transferred from the radiation sources.
References: