Current Loop, 5H10.31
Location:
L.S Ingersol Physics Museum Near Back of Room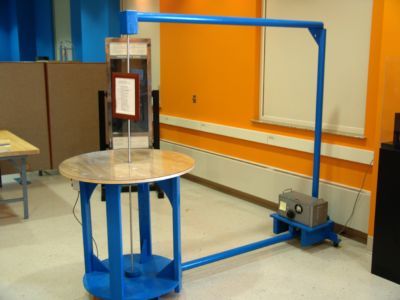 Description:
This demonstration shows how a current induced magnetic field is much stronger than the natural magnetic field generated by the Earth.
| | | |
| --- | --- | --- |
| Equipment | Location | ID Number |
| | | |
| apparatus | Ingersoll Museum | |
Setup:
No Setup Needed
Cautions, Warnings, or Safety Concerns:
Current Discharge from power supply
Demonstration:
A circular table top is embedded with small compasses and arranged in a circle. Through the center of the table top is a wire which is connected to a power supply and switch. When turn on the power supply generates a current through the wire. This current in turn induces a magnetic field greater than Earth's natural magnetic field. Thus the compasses on the table top are diverted to align with the new created field line rather than the Earth's natural field.
References: