Beat Organ Pipes, 3B60.15
Topic and Concept:
Location: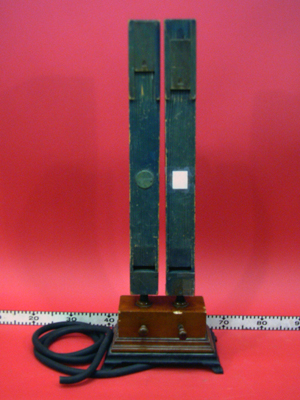 Abstract:
Two tunable organ pipes of similar frequency are played simultaneously creating beats.
| | | |
| --- | --- | --- |
| Equipment | Location | ID Number |
| | | |
| Organ Pipes (2) | | |
| Organ Base with Air Hose | | |
| | Located under lecture bench in rooms 2103 and 2241 | |
Important Setup Notes:
Setup and Procedure:
Place the base on a tabletop.

Attach the air hose to the compressed air output on the red and white gas cart.

Insert the tube end of each organ pipe into the base so that the vents face the audience.
Open the compressed air out valve.
To sound the tubes, pull out the wooden knob on the base located beneath each of the two pipes.
The frequencies can be tuned by sliding the wooden panels near the vents.
Cautions, Warnings, or Safety Concerns:
Make sure you are using compressed air and NOT methane gas which is highly flammable.
Discussion: Sound waves obey the principle of superposition. When two sound (pressure) waves encounter one another, they interfere. Spatially, the resultant wave has alternating spots of constructive and destructive interference. The frequency at which these occur in time at each location is called the beat frequency. The frequency depends on the respective frequencies of the interfering waves as follows
fbeat = |f1 - f2|
Videos:
References: